Location
The meeting will take place in the Boothzaal at Utrecht University – University Library Uithof.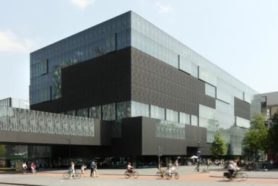 De Uithof can be accessed using public transport via an extensive network of bus routes. Bus lines 28 (through the city centre) and 12 (the most direct route from Utrecht CS) are categorised as 'high-quality public transport', which means that the service is high frequency and the buses have capacity for more than 100 people. You can plan your trip via NS.nl (train only) and 9292.nl (all public transport in the Netherlands) or visit U-ov.info for information on public transport in the Utrecht area. Parking is available in a car park next to the University Library Uithof (max. €7 per day; Cambridgelaan 108).
Dinner
If you have signed up for dinner, we have made a reservation at Humphrey's Restaurant Utrecht (Stadhuisbrug 3) at 7.30pm. The restaurant is located in one of the quayside cellars in the city center. We can choose three courses from the menu, including drinks, for €44. It would be helpful to bring this amount in cash.